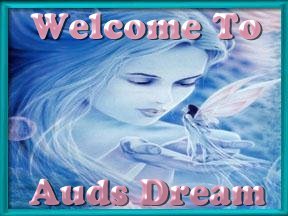 I welcome you to my world of dreams
and where I can sit and quietly
reflect on the things,
past, present and future.
Where the past is a reflection of what
I am today and where I am headed
tomorrow.

Some of the poetry and thoughts are
well known, some well known only to
me. May you find inner peace as you
dwell amongst the quiet and solitude
and may you always feel loved.

I wish you peaceful dreams
and golden slumber always.....




Begin Again
One of the best things we can do
in our lives is this: begin again.
Begin to see yourself as you
were when you were the happiest
and strongest you've ever been.
Begin to remember what worked for you
(and what worked against you),
and try to capture the magic again.
Begin to remember how natural it
was when you were a child -
to live a lifetime each day.
Begin to forget the baggage
you have carried with you for years:
the problems that don't matter anymore,
the tears that cried themselves away,
and the worries that are going
to wash away on the shore of
tomorrow's new beginning.
Tomorrow tells us it will be here
every new day of our lives;
and if we will be wise, we will turn
away from the problems of the past
and give the future - and ourselves -
a chance to become the best of friends.
Sometimes all it takes is a wish in
the heart to let yourself ...begin again.



~~Collin McCarty~~



~~ Worth While ~~
It is easy enough to be pleasant,
When life flows by like a song,
But the man worth while is one who will smile,
When everything goes dead wrong.
For the test of the heart is trouble,
And it always comes with the years,
And the smile that is worth the praises of earth
Is the smile that shines through the tears.
It is easy enough to be prudent,
When nothing tempts you to stray,
When without or within no voice of sin
Is luring your soul away;
But its only a negative virtue
Until it is tried by fire,
And the life that is worth the honor on earth
Is the one that resists desire.
By the cynic, the sad, the fallen,
Who had no strength for the strife,
The world's highway is cumbered today;
They make up the sum of life.
But the virtue that conquers passion,
And the sorrow that hides in a smile,
It is these that are worth the homage on earth
For we find them but once in awhile...
~ Ella Wheeler Wilcox~






My Poem: No Title
We think of the world as contemporary,
cold and lonely too.
But that idea no longer applies to me
from the moment I met you.
You've shown me there's a special place,
that dwells within our hearts.
That keeps me warm and safe... content
whenever we're apart.
All the things we've done together,
they are beautiful to me.
For they are what's made me a part of you
and you a part of me.
And I shall take all these memories
into infinity......
Audree Hurlburt~1976~





~ I Know Something Good About You ~
Wouldn't this old world be better,
If the folks we meet would say:
I know something good about you,
And then treat us just that way!
Wouldn't it be fine and dandy,
If each hand-clasp warm and true
Carried with it this assurance --
I know something good about you!
Wouldn't things here be more pleasant,
If the good that's in us all
Were the only things about us
That folks bothered to recall!
Wouldn't life be lots more happy
If we'd praise the good we see!
For there's such a lot of goodness
In the worst of you and me.
Wouldn't it be nice to practice
This fine way of thinking too;
You know something good about me,
I know something good about you!
~ Author unknown ~



Annabel Lee

It was many and many a year ago,
In a kingdom by the sea,
That a maiden there lived
whom you may know
By the name of Annabel Lee;
And this maiden she lived
with no other thought
Than to love and be loved by me.
I was a child and she was a child,
In this kingdom by the sea;
But we loved with a love
that was more than love--
I and my Annabel Lee;
With a love that the
winged seraphs of heaven
Coveted her and me.
And this was the reason, that long ago,
In this kingdom by the sea,
A wind blew out of a cloud, chilling
My beautiful Annabel Lee;
So that her high-born kinsman came
And bore her away from me,
To shut her up in a sepulchre,
In this kingdom by the sea.
The angel, not half so happy in heaven,
Went envying her and me...
Yes!--that was the reason
(as all men know,
In this kingdom by the sea)
That the wind came out
of the cloud by night,
Chilling and killing my Annbel Lee.
But our love it was stronger
by far than the love
Of those who were older than we,
Of many far wiser than we--
And neither the angels in heaven above,
Nor the demons down under the sea,
Can ever dissever my soul from the soul
Of the beautiful Annabel Lee,
For the moon never beams,
without bringing me dreams
Of the beautiful Annabel Lee;
And the stars never rise,
but I feel the bright eyes
Of the beautiful Annabel Lee;
And so, all the night-tide,
I lie down by the side
Of my darling--my darling--
my life and my bride,
In the sepulchre there by the sea,
In her tomb by the sounding sea...

by Edgar A. Poe





"Comes The Dawn"

After awhile you learn
the subtle difference between
holding a hand and chaining a soul
and you learn that love
doesn't mean possession
and company doesn't mean security.
And you begin to learn that kisses aren't contracts
and presents aren't promises and you begin to accept
your defeats with your head up and your eyes ahead
with the grace of an adult not the grief of a child.
And you learn to build your roads today
because tomorrow's ground is too uncertain for plans
and futures have ways of falling down in mid-flight.
After awhile you learn that even sunshine
burns if you get too much so you plant your
own garden and decorate your own soul
instead of waiting for someone to bring you flowers.
And you learn that you really can endure
that you really are strong
and you really do have worth
and you learn
and you learn...

by Virginia Shopstall





" Let It Go "

You cannot erase the past; you must let it go.
You cannot change yesterday; you must
accept the lessons learned.
You cannot stop time or stand still in a
world racing around in circles;
You must dance with the wind and sing
with the songs that are playing.
Let whatever mistakes you have made remain
in the shadows of times gone by,
And let love be the answer to
the mysteries in life.

Keep looking...for the peacefulness
you are searching for.
Keep believing...in the contentment
you talk so endlessly about.
Keep trying... to be all that you are.

Remember..the magic in life ends
whenever you decide you have everything...



I had not really planned on taking a trip
this time of year, and yet I found
myself packing rather hurriedly.
This trip was going to be unpleasant
and I knew in advance that no real
good would come of it.
I'm talking about my annual "Guilt Trip".
I got tickets to fly there on Wish
I Had airlines. It was an extremely
short flight. I got my baggage,
which I could not check.
I chose to carry it myself all the way.
It was weighted down with a thousand
memories of what might have been.
No one greeted me as I entered the
terminal to the Regret City International Airport.
I say international because people
from all over the world come to
this dismal town. As I checked into
the Last Resort Hotel, I noticed that
they would be hosting the year's most
important event, the Annual Pity Party.
I wasn't going to miss that great social occasion.
Many of the town's leading citizens would
be there. First, there would be the
Done family, you know...
Should Have, Would Have and Could Have.
Then came the I Had family.
You probably know ol' Wish and his clan.
Of course, the Opportunities would be present,
Missed and Lost. The biggest family
would be the Yesterday's.
There are far too many of them to count,
but each one would have a very
sad story to share. Then Shattered Dreams
would surely make an appearance.
And It's Their Fault would regale us
with stories (excuses) about how
things had failed in his life, and
each story would be loudly applauded
by Don't Blame Me and I Couldn't Help It.
Well, to make a long story short,
I went to this depressing party knowing
that there would be no real benefit
in doing so. And, as usual, I became
very depressed. But as I thought
about all of the stories of failures brought
back from the past, it occurred to me
that all of this trip and subsequent "pity party"
could be canceled by ME! I started
to truly realize that I did not have to be there.
I didn't have to be depressed. One thing
kept going through my mind, I CAN'T
CHANGE YESTERDAY, BUT I DO
HAVE THE POWER TO MAKE TODAY
A WONDERFUL DAY. I can be
happy, joyous, fulfilled, encouraged,
as well as encouraging. Knowing this,
I left the City of Regret immediately and
left no forwarding address. Am I sorry
for mistakes I've made in the past?
YES! But there is no physical way to
undo them. So, if you're planning a
trip back to the City of Regret, please
cancel all your reservations now.
Instead, take a trip to a place called
Starting Again. I liked it so much that
I have now taken up permanent residence there.
My neighbors, the I Forgive Myselfs
and the New Starts are so very helpful.
By the way, you don't have to carry around
heavy baggage, because the load is lifted
from your shoulders upon arrival.
God bless you in finding this great town.
If you can find it, please look me up.
I live on I Can Do It street.






Life's Dream

by CC-Russ

Happy are they who Dream;
See the vision to be;
Turn thoughts into action;
Stop to smell the roses;
Follow their driven goals;
Keep focus on each task;
Enjoy their long journey;
Are always persistent;
Give Love along the way;
And achieve their life's Dream.

Copyright 1999